A couple of nations are well known for their love affair with tea: the United Kingdom, India, Australia and China are only a few examples. But the practice of drinking this herbal liquid is spreading to those regions where coffee was for so long the big seller.
That is why you see more websites dedicated to information and exportation of rare and common teas popping up all over the place.
If you are thinking of creating your own – or you are just an enormous tea fanatic – you will love these examples of gorgeous sites dedicated to the beverage.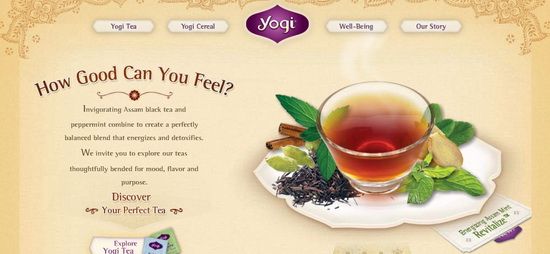 Rather well known for its aromatic tea blends, Yogi Products has a unique and simple site that comes off as quite elegant. The background is similar to a parchment design, with a rich and bright color that brings to mind the tea itself. The graphic of a steaming cup of tea gives something more to look at, and the simple links keep it user friendly.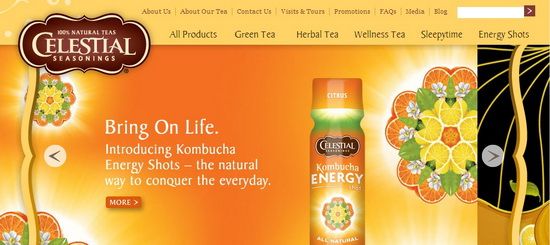 Another popular tea company, Celestial Seasonings uses an interesting grid design along with a slideshow to introduce the user to its new and most-bought products. Most of their pictures have a cartoon background, along with images of plants and flowers. You can find the company's different tea lines up top, such as Sleepy Time and Energy Shots.

The look of tea is beautiful in and of itself; the colors, the sorting of the loose leaves, the plants and flowers in the mix. Zen Tara lets this natural beauty speak for itself. It has a thumbnail with each tea type, a slideshow at the top and relevant links at the header of the page. There is also a blog with latest posts in the side margins.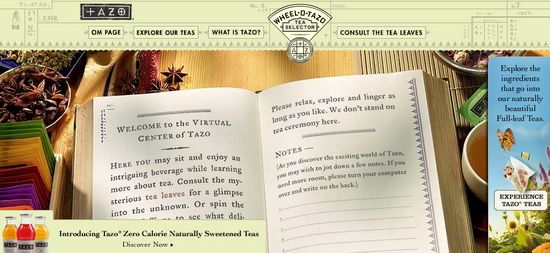 I love the interactive nature of Tazo's site. The homepage features an open book. That leads to the rest of the site, which has interesting links, graphics and even a switch that "controls the Internet". It is lighthearted and fun, as well as informative.
Adagio has a site that changes with seasons to relate to whatever event might be happening during that time. Recently it has had their Christmas design up. It shows a large candy cane, to represent its peppermint Christmas line. But my favorite part is the consistent presentation of cups of tea at the top sending the user to the product page for each type.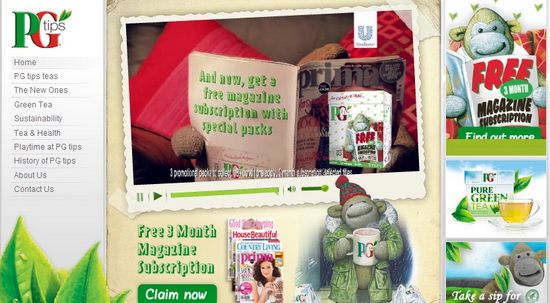 Is there anything better than a monkey puppet with a British accent introducing you to a product? I didn't think so. This site has the latest commercial from the company featuring its mascot, with an otherwise very simple design. Most of it is on a white background, which is uncommon with professional sites these days. It looks very clean and efficient, but the content makes it much warmer, rather than sterile.
Another site that uses pictures of loose tea leaves, this one also has a gorgeous slideshow at the top that shows natural photography like rolling green hills, a steaming cup of tea and more. The link system is a little sloppy, but it all just manages to come off as more rugged and down to earth, rather than the polished look you might have come to expect.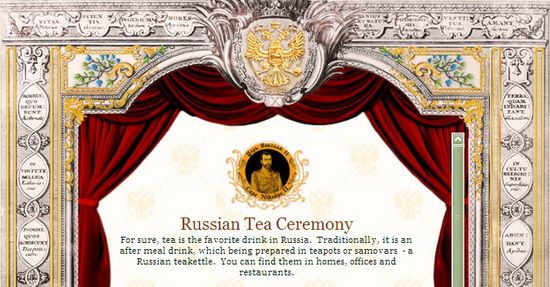 The most formal and classy tea website you will find, the Russian Tea Co. has put together a royal design. There is a front page with information on tea drinking in Russia under a banner and coat of arms. From there, you can find its products and more information on drinking, brewing and more. There is a Russian and an English version.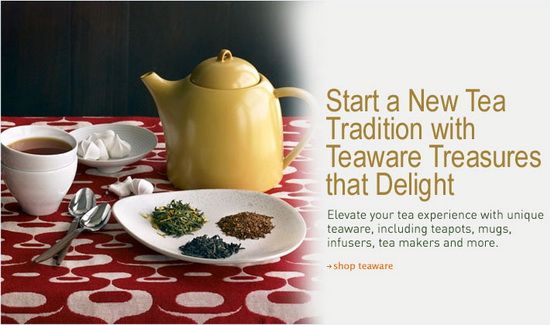 Clean grids always make for good sites, but they need a little extra detail to make them interesting. This site uses illustrations in the header that change with the seasons to spice is up a bit. In the center are full color ads on a slideshow that let you know about the latest sales and new products.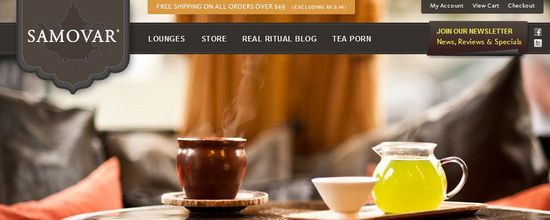 A full background picture rotates as you watch, with all links at the top of the page and nothing to break the photos of tea leaves, cups of the beverage and cafes. You should be sure to check out its Real Ritual Blog and Tea Porn pages, which are interesting and fun.
What are some of your favorite tea websites? Let us know in the comments.
Sonia Tracy is the content editor for PsPrint, an online printing company, which you can follow on Twitter and Facebook.